Touch the Pulse of Technology Advance and Explore the Road of Harmonious Development
(People.cn/CHANG Hong, JIA Wenting, TAO Wen) On September 9th, 2018, the 2nd Taihe Civilizations Forum (TCF) launched by the Taihe Institute was successfully completed in Miyun, Beijing. Themed on "Science Culture • Future Ethics • Common Values", this forum aims to explore common values, seek for a harmonious relationship between future technology and ethics in the rapid process of modern scientific and technological development, and promote the construction and development of "a community with a shared future of mankind". During the three-day forum, former dignitaries and nearly 200 leading experts and scholars gathered together and discussed heatedly on the topics of people-to-people exchange, sustainable development, and advanced technology.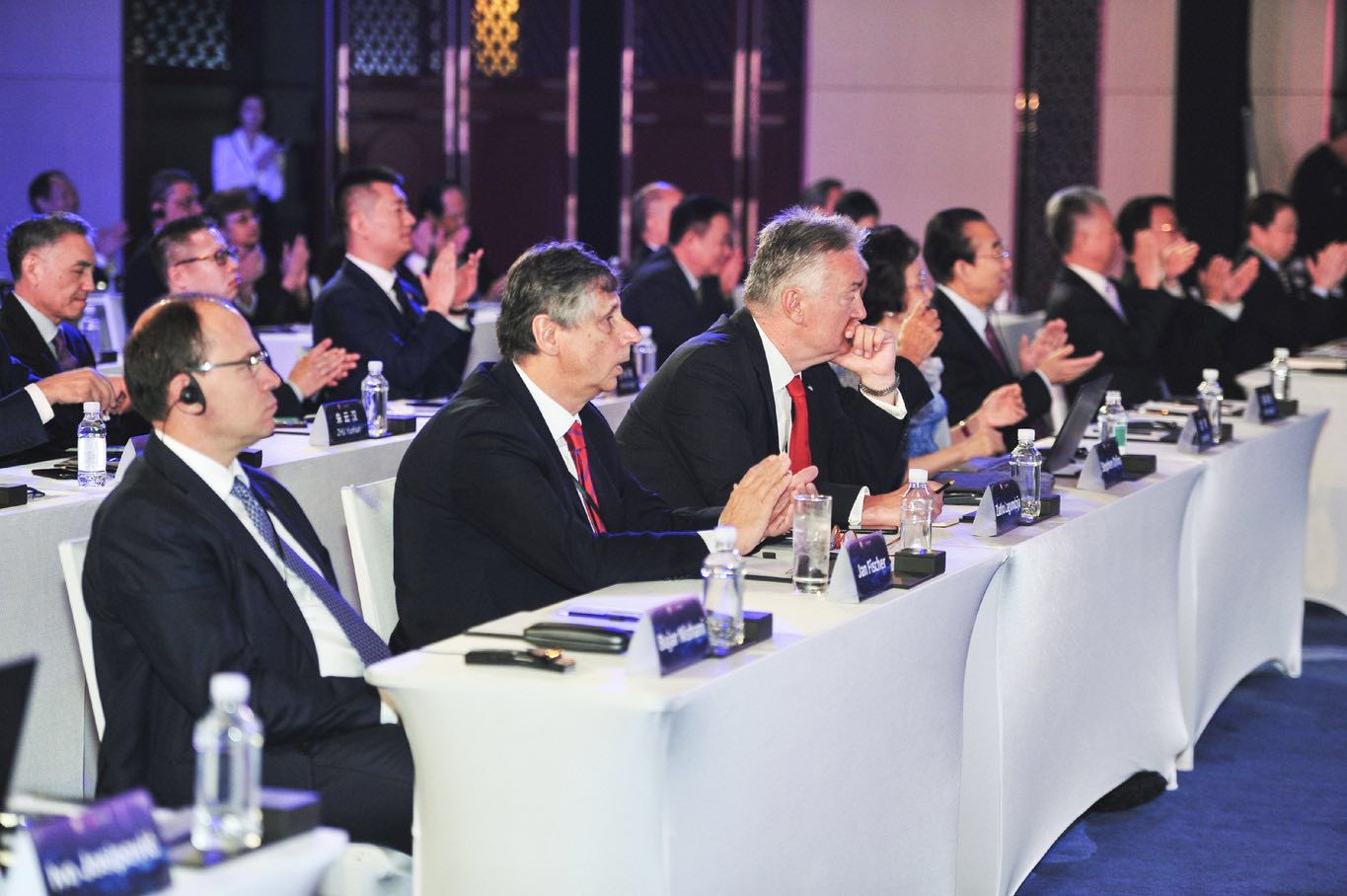 People-to-people exchange is an important way to promote exchanges between human civilizations and to resolve conflicts in human society.
Irina Bokova, Senior Fellow of Taihe Institute and Former Director-General of UNESCO, Rashid Alimov, Secretary-General of SCO, WU Hailong, President of Chinese People's Institute of Foreign Affairs, Bujar Nishani, Former President of Albania and Dzhoomart Otorbaev, Former Prime Minister of the Kyrgyz Republic, all stated that "the key to sound relations between states lies in the affinity between their people, which largely stems from mutual understanding"; in the process of globalization, how civilizations should continue and human beings should coexist have become an essential issue that transcends politics and influences the whole situation when there are fundamental changes in the system of international relations.
During the session, John Holden, Chairman & CEO of the U.S.-China Strong Foundation, said that the purpose of people-to-people exchange was to enhance mutual learning and broaden mutual understanding, to which media and technological innovation are important channels. CUI Liru, Senior Researcher of Taihe Institute and Former President of China Institutes of Contemporary International Relations, shared his views on how to establish China-U.S. strategic mutual trust within the framework of common values. He believed that China-U.S. relations were in a transitional stage, and their strategic mutual trust was facing enormous challenges and needed to find the strategic consensus, seek common ground while reserving differences, and eliminate strategic doubts from perspectives of top-class leaders, middle-class elites and grassroots people. XIAO Gongqin, Professor of History Department at the College of Humanities and Communities at Shanghai Normal University, proposed that "we should draw wisdom from history" to "avoid the vicious interaction between China and the United States". YU Hongjun, Senior Researcher of Taihe Institute and Former Deputy Minister of International Department, Central Committee of CPC, innovatively proposed that modern cultural communication should involve "four adaptions", i.e., diversification of subjects, diversification of contents, modernization of means and localization of modes. JIN Canrong, Associate Dean of the School of International Relations at Renmin University of China, pointed out that the competitiveness of Europe diminished at present and the future global competition would be mainly between China and the United States. William Billows, Project Editor of the "Culture Report EUNIC Yearbook", argued that Europe was reshaping its position and attitude in cultural communication and was adapting itself to globalization. YUAN Ming, Dean of Yenching Academy at Peking University, pointed out that the United States could learn from Europe's experience in global governance. ZHAI Kun, Senior Researcher of Taihe Institute and Professor from the School of International Relations at Peking University, proposed that "the Belt and Road" should be promoted with "two hands": "one visible hand" of "five types of connectivity", and the other "invisible hand" of the market environment and international situation. Robert XIAO, CEO of Perfect World, took Hollywood as an example, stating that cross-cultural communication also had a special business path, so that commercially successful products would have the opportunity to spread culture. CHEN Dali, Director of the Division of American and Oceanian Affairs, Department of International Cooperation and Exchange at Ministry of Education, and LI Chaomin, Senior Researcher of Taihe Institute, suggested that cultural exchanges should focus on young people and the new generation, employing various ways to promote exchanges between Chinese and American young people.
Promoting sustainable development requires new consensus, new ideas and new patterns
The world's economy is slowing down, yet trade protectionism and populism are rising, and injustices and inequalities are further aggravating, which has greatly interfered with the construction of global consensus and the promotion of sustainable development. Zlatko Lagumdzija, Former Prime Minister of Bosnia and Herzegovina, Jan Fischer, Former Prime Minister of the Czech Republic and Thorsten Jelinek, Europe Director of the Taihe Institute, all believed that mankind was facing both the ultimate danger and the great opportunity to save itself; only by radically changing the development pattern and the structure of modern civilization could we fundamentally solve the problem mankind faced such as climate change and environmental pollution, etc. This required a rapid transition to the concept and technology of a carbon-free society, as well as the establishment of globally accepted common values through political action, which is why Taihe Civilizations Forum stressed "common values".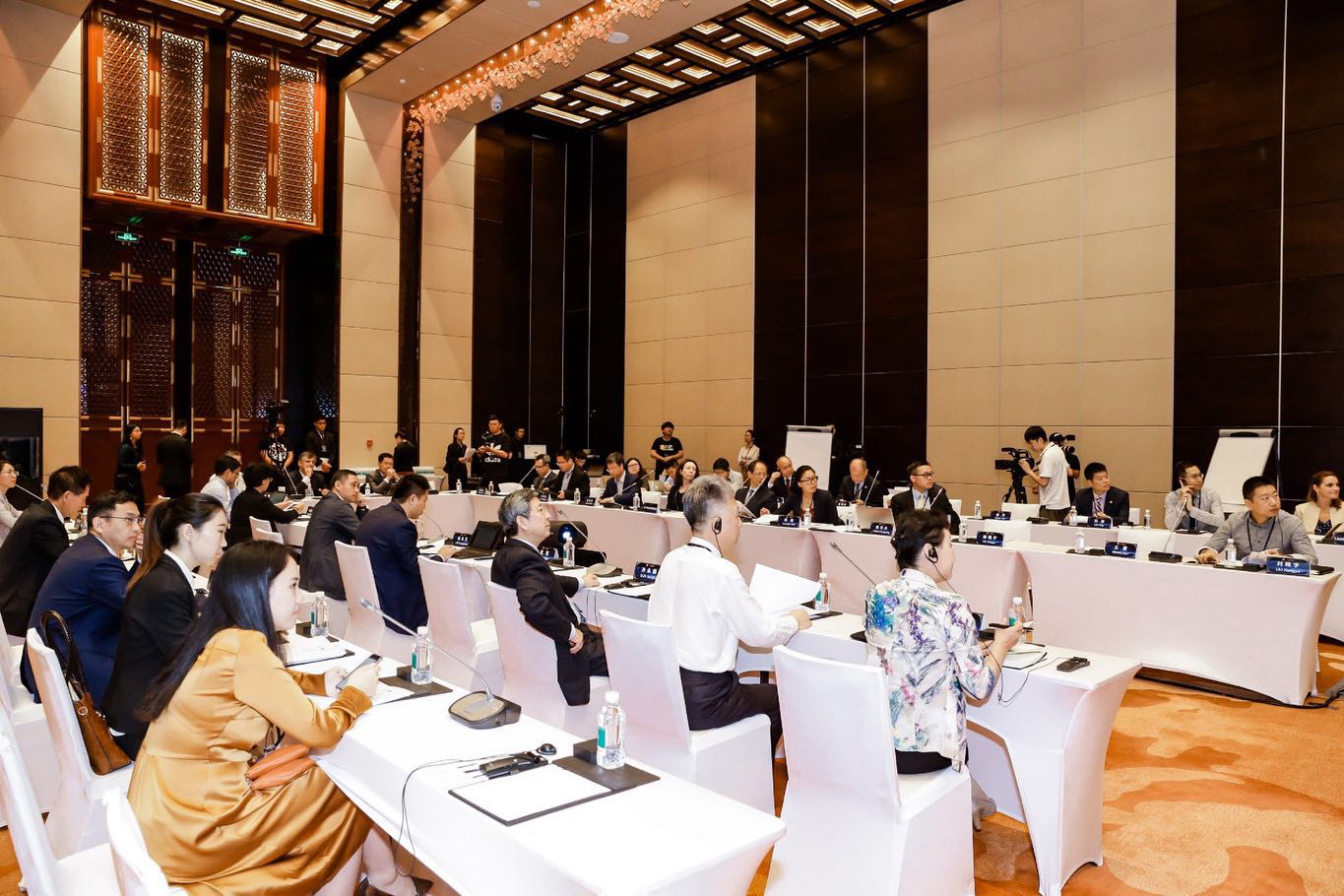 The session on Sustainable Development
At the session on Sustainable Development, Marie Chatardova, Permanent Representative of the Czech Republic to the United Nations and President of the UN Economic and Social Council, stated that achieving the goal of sustainable development required the concerted efforts of all countries, especially the progress of science and technology. HOU Jiaru, a Taihe Institute researcher and Dean of Institute of Green Development Strategies, China University of Political Science and Law, proposed that we should set the tone for the negotiation of the international climate convention with the concept of "a community with a shared future of mankind". Mats Karlsson, Director of the Swedish Institute of International Affairs, believed that Europe urgently needed to rebuild a new concept of harmony similar to China or a social contract under the three themes of the Taihe Civilizations Forum, so as to revolutionarily achieve the promise of tackling climate change and the goal of sustainable development. HUANG Yue, Aviation Environment Manager of the International Air Transport Association (IATA), argued that the international aviation industry was closely related to SDGs. She proved the development of the international aviation industry would help to achieve the goal of sustainable development. ZHANG Haibin, Professor of the School of International Relations at Peking University proposed that China' new role in the global sustainable development was a "lead" but meanwhile stressed that it was not equivalent to a "leader". The lead didn't mean that China had shifted from a developing country to a developed one, but mainly reflected in the leadership of concepts and behaviors of achieving domestic green and low-carbon development. ZHOU Kai, Executive Director of CESER Management Committee, pointed out that China had taken the leading position in innovations in the fields of sustainable development concepts and production techniques, etc. LIN Yongsheng, Researcher of Taihe Institute and Professor of School of Economics and Resource Management at Beijing Normal University, believed that green energy development was one of the important elements of China's energy transformation, including improving energy efficiency and clean utilization of traditional fossil energy. YU Hongyuan, Director of Institute for Comparative Politics and Public Policy at Shanghai Institutes for International Studies, proposed that China's mineral resources depended heavily on foreign trade, price fluctuation and geopolitical economy; hence China needed to enhance the construction of ecological civilization, and cooperate with the host country of resources to promote "the Belt and Road" construction and global sustainable development.
Technology is the driving force behind all changes, and a brand-new era has arrived.
The rapid technological development not only changes the way of human beings' production and life, but also poses a huge impact and challenge to the ethics of future human society. In this regard, Ivo Josipovic, Former President of the Republic of Croatia, CHEN Zhimin, President of China Association for Friendship and Former Vice Minister of the Ministry of Public Security of the People's Republic of China, and PU Muming, Director of the Institute of Neuroscience at Chinese Academy of Sciences, all believed that science and technology were the driving force behind all changes, and to ensure that the development of science and technology truly benefit mankind was a major proposition of the times. In the era of big data, the issue of data ownership will have a significant impact on the security, development and destiny of human society. We should take great care of top-down design and system specification, as well as the relationship between frontier technological pursuits and social needs from the perspective of human ethics and global rules.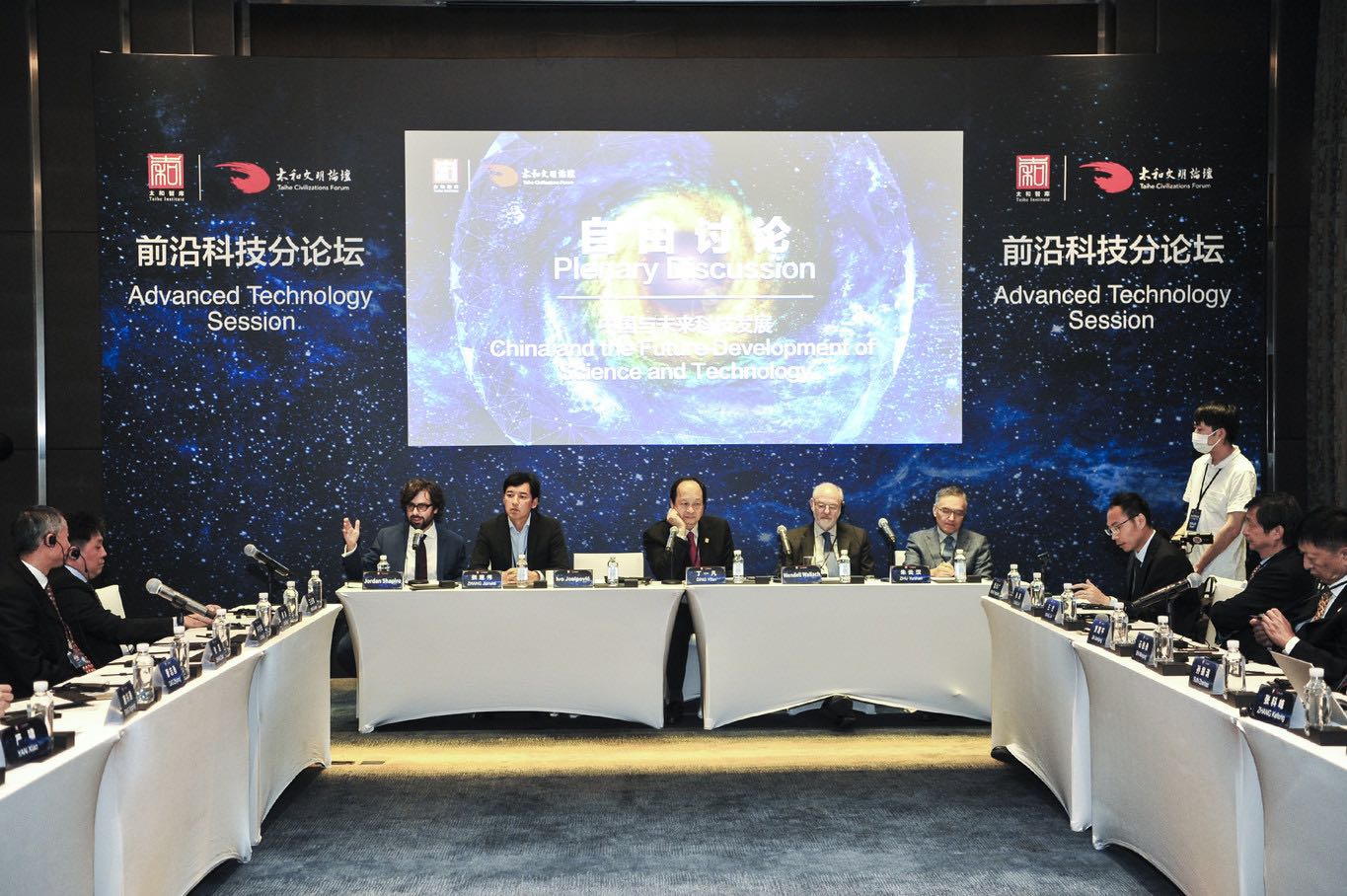 The session on Advanced Technology
At the session on Advanced Technology, SUN Qiang, Director of the Non-human Primate Facility of Institute of Neuroscience at Chinese Academy of Sciences, Annabel Lin, Vice President of Google China, YIN Ye, CEO of BGI Genomics Co., Ltd., SHEN Xiaowei, Director of IBM Research-China, MENG Tianguang, Associate Professor of the Department of Political Science at Tsinghua University, Wendell Wallach, Senior Advisor to the Hastings Center, and FEI Lianghong, Chief Adviser of Cloud Computing Technology at AWS, etc., shared their latest achievements, cutting-edge applications and development trends in life science and technology, artificial intelligence, robotics, big data, cloud computing and other fields, proposing views including "benefits of artificial intelligence is within reach", "threats and regulation challenges brought by the dual-use biotechnology are far greater than that of AI", "Today is not an AI First era, but an AI Only era", etc. ZHU Yunhan, Professor of the Department of Political Science at National Taiwan University pointed out that AI and big data had posed a challenge to government regulation and democratic governance. ZHANG Jianwei, Professor of Department of Informatics at University of Hamburg, Germany, introduced the concept of "mankind 2.0". He believed that the technical, social and legal problems brought about by artificial intelligence need to be addressed through interdisciplinary cooperation. With regard to development of science and technology and social ethics, participants proposed that science verified the truth and ethics explored the good and evil; since science did not teach people to be good, we might discuss the "right and wrong" and "good and evil" in religion; hence the raising of the ultimate question of whether theology was the end of science. Speakers agreed that the critical point of the AI explosion had arrived and would have a disruptive impact on the world. Through the realization of man-machine mix and man-machine cooperation, artificial intelligence would lead us into a new era, changing our lives and industry. While paying attention to the combination of artificial intelligence and industry, people should consider establishing a new social contract or human rights convention to avoid ethical and moral hazards and welcome the advent of digital society.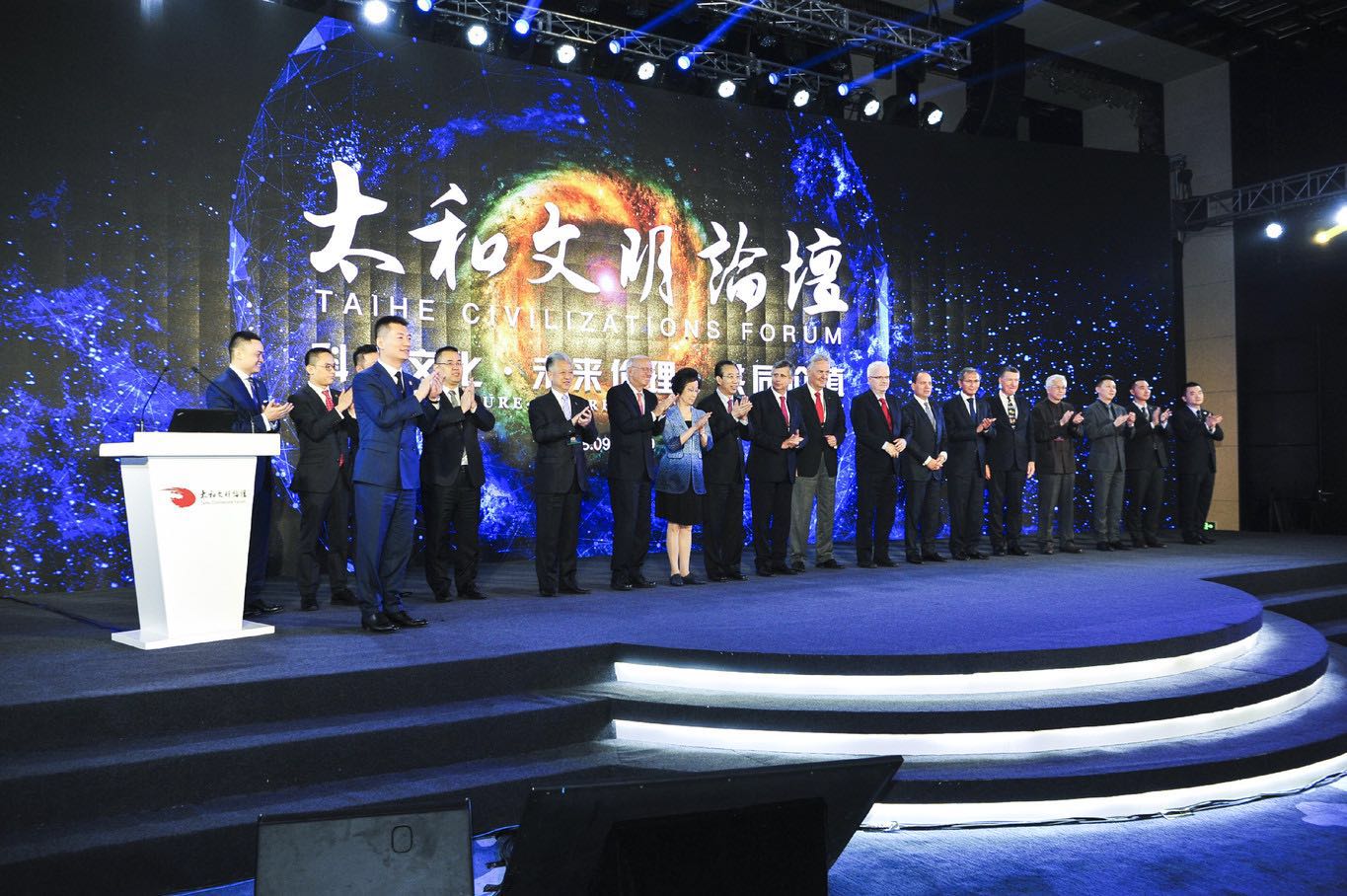 During the three-day Taihe Civilizations Forum, participants probed the past and the present, and discussed future trends of the world, exploring the roots of conflicting issues and seeking ways to deal with that with a focus on the co-existing and sharing of human civilizations. Although the forum has come to a close, the inspiring ideas it brings last. In the future, Taihe Civilizations Forum will continue to uphold the tenet of "exploring common values and seeking harmonious development", target world-renowned forums and build an academic exchange and non-governmental diplomacy platform with greater international impact.
Speakers
Rashid Alimov Secretary-General of the Shanghai Cooperation Organization(2016-2018).

Mohamed Sameh Amr Professor of International Law Department at Cairo University. He is also a ...

Irina Bokova Distinguished Fellow of Taihe Institute, Director-General of...